Special Offers
Special Offers
30% Off Lotus Premium Dog Food Bags
Lotus is one of the best quality brands we sell. Baked at low temperatures to retain nutrients, it has a high meat content with no meal. It comes with senior, puppy, and grain-free options. Made in Canada in small batches. Includes all size bags: 5lbs, 12.5lbs & 25lbs. While quantities last.
25% Off Premium Dog Food Can Brands

Get 25% Off Party Animal, Koha, and Victor 12oz cans of dog food. Offer valid while supplies last.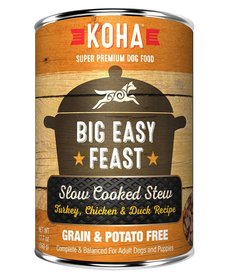 Buy One, Get One Free Weruva Small Cat Cans
Buy 1 and get 1 free. Order the quantity you need and it will ring up 50% off. Applies to all Weruva 3.0/2.8oz cans. Large selection of flavors and combinations in pate and gravy.
33% Off Fromm Frommbalaya Dog Food Cans

Fromm's new line of exciting New Orleans inspired flavors. Chose from Turkey, Chicken, or Beef proteins, each with the signature beans & rice. Now only $1.99 each.
Huge Sale on Raw Frozen Tuckers

Bison

Bones
Bison Bones!! This kind of deal doesn't come around every day. The single piece XX-Large Tanaka Bison Bone is only $8.99 (47% off) and the 4 inch 2-pack is only $7.99 (42% off). Applies while supplies last.
33% Off Fromm Cat Food Cans Shredded Meat

Treat your cat to Fromm's newest line of shredded meat cat food in Turkey, Chicken, and Surf & Turf (turkey & shrimp), each with sweet potato to round out a balanced diet.